Ref:
Date:
Location:
Photographer:
Ref:
Date:
Location:
Photographer:
Here are a few news stories to keep you up to date with notable events. Keep checking back for more...
New work delivered to Adrian Hill Fine Art
In the company of great artists
I am delighted to have been invited as a gallery artist at the prestigious Adrian Hill Fine Art in Holt. All of the artists represented at the gallery have been carefully selected from the Royal Academy or Royal Institutions, Federations and or Societies. The Collection also showcases individual works by established renown British Artists. Currently the gallery has a good selection of Edward Seago and Munnings paintings as well as colleagues form the Royal Institute of Oil Painters such as Peter Brown, Ken Howard, Brian Ryder, David Curtis, Andrew King and David Pilgrim.
It is a great gallery and lovely space to enjoy great paintings and I would everyone o pop in if they are in the area. The we address is below for further information.
I have four larger paintings of Blakeney on show in the gallery which are shown in the Marine section on the paintings page of my website and will be uploaded to the gallery website in due course.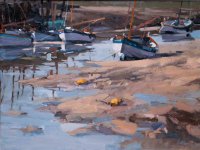 www.adrianhillfineart.com